Posted on June 15th, 2017 at 11:29 am
Contact Us:

(305) 594-7484

Offices for Lease

WTDC has offices that will become available for lease in the coming months. Offices range in size from 130 sq ft to 1200 sq ft. Click here for more information

Managed by Amy Gamarra

Home-C International Realty


Focused on Safety

4910 days

without an injury accident

WTDC is a Foreign Trade Zone and Logistics Company, family owned and operated by the Gazitua family proudly celebrating its 40th anniversary in 2017. We are a full service logistics company specializing in international distribution and global transportation

management. We provide transportation services via Road, Rail, Air or Ocean.

Temperature Controlled FTZ Warehousing

Foreign Trade Zone Warehousing & Distribution (FTZ 281-4)

U.S. Customs Bonded Warehousing & Distribution

Container Freight Station (CFS)

In-Bond Export Consolidator (IBEC)

Licensed FMC, NVOCC, and IAC

Heavy Lift, packing & crating, vehicle loading, and public warehouse

Consulting Services: FTZ, Bonded Warehousing, Duty Drawback, FDA, etc.

Rollbacks expected to US-Cuba policy during Trump announcement on Friday

President Trump is scheduled to speak in Miami's Little Havana on Friday where most expect an announcement to rollback advances made to U.S.-Cuba relations relating to trade and tourism made during the Obama administration.

As timing would have it, WTDC handled a container to Cuba this week for the 4th of July celebration at the US Embassy in Havana. With expected changes on the way, this shipment may very well mark the end of U.S. companies exploring business opportunities on the island for the near future.

The Gazitua family has visited the island seven times; five times to examine the logistics infrastructure on the island since President Obama made the announcement to open relations with Cuba, and twice for religious pilgrimages, one to see Pope Benedict and the other to see Pope Francis. Mr. Ralph L. Gazitua, WTDC Chairman, was among the few to witness the raising of the American Flag at the US Embassy in Havana.

Mr. Gazitua pictured with U.S. Marines at the home of U.S. Ambassador Jeffrey DeLaurentis in Havana, celebrating the raising of the American flag at the U.S. Embassy in Havana, August 14, 2015.

WTDC's Safety & Security Committee

In response to a number of unfortunate and tragic recent events, Ralph L. Gazitua, WTDC Chairman & MDPD Chaplain, was concerned for the safety of his staff and family. He decided to start WTDC's Safety & Security Committee (SSC). This committee is intended not just for WTDC employees, but for any of our colleagues who would like more information on how to respond to an emergency situation.

WTDC has organized support from Miami Dade Police Department and the Department of Homeland Security, which has volunteered one of its officers to inform and train those interested in how to respond to an Active Shooter Scenario.


If you would like to RSVP to join us for this seminar, or for additional information, please click here. A complimentary lunch will be provided.

Active Shooter Scenario led by Miami Dade Police Department & Department of Homeland Security, a WTDC Safety and Security Seminar

-Tuesday, June 20, 2017

-12 pm

-WTDC, Suite N-22, 2801 NW 74th Ave

-Miami, FL 33122

Mr. Gazitua attended a 6 hour training in Urban Combat Skills, Live Ammo, and Tactical Pistol Training led by NRA Instructor Joseph Yeampierre of Allstate Training Academy at the Florida Gun Center.

Port Miami welcomes largest ship to date

This week the Maersk Shanghai docks in PortMiami. The Maersk Shanghai, towering at over 1,063 ft long and 159 ft wide, would have not been able to sail through PortMiami before the recent widening and dredging of its shipping channel.

For More on the topic, read the article "Biggest Container Ship Ever To Call At a Florida Port Arrives At PortMiami" by Mimi Whitefield in the Miami Herald published on June 14th, 2017.




Photo:CM Guerrero, Miami Herald
WTDC June 15 News: Rollbacks to US-Cuba Policy, PortMiami welcomes largest ship - Read More
Posted on May 16th, 2017 at 3:51 pm
WTDC Chairman, Guest Speaking at Christian Chamber of Greater Miami
May 16th, Ralph L. Gazitua, WTDC Chairman is guest speaking at the Christian Chamber of Greater Miami.
Mr. Gazitua was ordained a deacon at St. Mary's Cathedral by Archbishop Edward A. McCarthy 30 years ago, on May 2, 1987. Deacon Gazitua has balanced his spiritual responsibilities as deacon with his commitments to his family and his career.
Mr. Gazitua is a successful businessman and community leader. He is also well known for his religious service to his church.
Deacon Gazitua is engaged in several church ministries including the Law Enforcement and Firefighters (LEAF) Emmaus. His role in detention ministry at Everglades Correctional, where he leads RCIA and Liturgy of the Word for inmates each week, led to his assignment as Chaplain to Miami-Dade Police Department.
The Gazitua family owns and operates WTDC, a Foreign Trade Zone and Logistics company that celebrated its 40th anniversary this March. Ralph is WTDC's Chairman and his two sons are also involved in the company: Luis Andre Gazitua is Legal Counsel and operates his own law firm Gazitua Letelier PA, and Sean P. Gazitua was promoted this year as WTDC's President & CEO.
Over his decorated professional career, Ralph has held appointments to numerous boards including The Adrienne Arsht Center for the Performing Arts of Miami-Dade County Trust, Beacon Council, FIU President's Council, Greater Miami Chamber of Commerce, and serves currently as Miami Dade College's Chair for Supply Chain Management Advisory Council, and is an inductee of the Miami-Dade College Hall of Fame.
WTDC May 16 News: Three Directors, One Stage; WTDC New Interns; Record Setting Ship sails through Panama Canal - Read More
Posted on May 2nd, 2017 at 1:38 pm
PortMiami traffic with Asia rises 11%

Bolstered by an increase of container traffic as a result of infrastructure improvements at PortMiami (See our previous article on Big Ship Ready) as well as traffic that continued with the port following resolution of West Coast labor disputes, PortMiami reported an 11% volume growth with Asia in 2016. As reported in MiamiToday, PortMiami has benefited from the larger PostPanamax ships that now move through the expanded Panama Canal and PortMiami now sees 35% of its trade volume with Asia.
One interesting future limitation brought up in the article concerns planned construction to bridges in New York. Limits to the height of the vessels New York can receive could adversely affect PortMiami, as many of the vessels that call Miami also call New York.

To read more from the April 18, 2017 article in the Miami Today by Camila Cepero "PortMiami traffic with Asia rises 11%" click here.
Celebrate Florida trade opportunities during Florida World Trade Month 2017
Each May, The Florida Chamber of Commerce, World Trade Center Miami, and Enterprise Florida host a month long series of educational seminars and business networking events to display Florida's participation in World Trade Month.
The events kick off with tours of PortMiami on Wednesday and then Friday's WorldCity 'World Trade Month Annual Kick-off Luncheon' presented by World City in which all 3 port directors will share the stage. May 3rd is the last day to register for Friday's event. Expect to see WTDC there!
Here is the registration link for all interested:
WTDC May 2 News: PortMiami Update, Ralph L. Gazitua 30 Year Deacon Anniversary, WTDC Attends Netherlands Seminar - Read More
Posted on April 18th, 2017 at 5:09 pm
WTDC Featured in IAADFS official photo slideshow

Check out the official photo slideshow from IAADFS Duty Free Show of the Americas 2017. WTDC President & CEO, Sean Gazitua, and WTDC Chairman, Ralph L. Gazitua made a cameo!


Click here to view the full slideshow.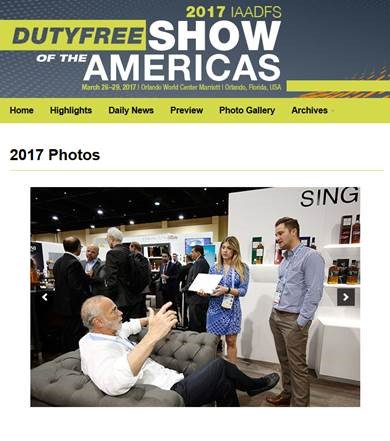 USA & Cuba Relations Update:
OFAC licenses continue to be issued in Trump administration
To date, no major changes have been made to U.S-Cuba policy by the Trump administration to rollback changes made during the Obama administration. A recent article in the Miami Herald listed examples of U.S. companies that have received special permission to operate on the island. U.S.-based broadcast and video facility company Cuba International Network, was recently awarded an OFAC (Office of Foreign Assets Control) license allowing them to do business with Cuban radio and television company RVA.

To read more from the April 4, 2017 article in the Miami Herald by Nora Gámez Torres "Trump administration continues to issue OFAC licenses authorizing business with Cuba."
To read more from the April 4th, 2017 article in the Miami Herald by Nora Gamez Torres, click here.
WTDC Newsletter April 18; WTDC in IAADFS Slideshow, WTDC Sponsors MDC Students, WTDC intern program, US CUBA update - Read More
Posted on March 31st, 2017 at 1:35 pm
WTDC Attends 2017 IAADFS Duty Free Show of the Americas
Florida East Coast Railway to be acquired by Grupo Mexico

Big news for the transportation industry, Florida East Coast Railway (FEC), Jacksonville based railroad, is to be acquired by Grupo Mexico Transportes S.A de C.V. (GMXT).

Below is an excerpt from article published by Jeff Berman in 'Logistics Management' Magazine on March 28th:


"Earlier today, the Florida East Coast Railway (FEC) and GMéxico Transportes S.A. de C.V.(GMXT), the transportation unit of Mexico City, Mexico-based miner Grupo Mexico, announced that they have entered into an agreement in which GMXT will acquire FEC in an all-cash transaction, which is expected to close subject to satisfaction of closing conditions.
Various reports said the sale price was $2.1 billion, with Reuters reporting that Grupo Mexico financed the purchase from FEC owner Fortress Investment Group with $1.75 billion in debt and $350 million in capital, based on a company statement for the Mexican stock exchange."

Logistics Management: 'Florida East Coast Railway to be acquired by Grupo Mexico'â??
WTDC March 31st: WTDC attends IAADFS Duty Free Show ; Lunch with Dr. Haass ; FEC to be acquired by Grupo Mexico - Read More
Posted on March 16th, 2017 at 9:52 am
WTDC: 40 years in business!
Community Involvement: Graduation ceremony for Colombian National Police trained by MDPD SWAT

WTDC Chairman and Miami-Dade Police Department Chaplain Ralph L. Gazitua gave the invocation and benediction for the graduation of the Colombian National Police's training by MDPD's special response team.

"It was an honor to give the invocation today for the graduation of the Colombian National Police trained by MDPD. We are blessed to have such skilled officers protecting our community. It is a great outreach program for the MDPD to share its knowledge and expertise so that other communities can benefit from having a highly skilled tactical response team," said Mr. Gazitua.
Pictured with MDPD Director Juan Perez and the Colombian Lt. Col.
WTDC March 15 Newsletter: WTDC DFNI; Cuba A Year in Review; MDC Honor Society Scholarship; MDP Invocation & Benediction - Read More