Showing posts with tags Spirits and Travel Retail.
Posted on September 19th, 2016 at 2:38 pm
Hanjin ships begin to unload
On Monday, September 19th, bankrupt Hanjin Shipping (ranked 10th in TEU volume management as of September 2016 according to Alphaliner) released information that is a glimmer of good news for some worried freight forwarders and U.S. retailers concerned about supplying the looming holiday season: 28 of 97 ships currently stranded throughout the world have been offloaded at ports in California, Spain, and elsewhere. Korean Air, the shipping line's largest stockholder and part of the Hanjin Group, has pledged 100 billion won ($54 million) including 40 billion won from the personal assets of its chairman to alleviate the current offloading distress.
That news, however, does little to shed light on the future of a company responsible for 10% of all China-US shipping, what will become of the assets currently stranded on the unloaded ships, how will any of the offloading or fueling services be paid for, whether the unloadings are even legal (see Bloomberg article), and how will the new shortage of available space on working vessels affect rates for all carriers.
WSJ: Hanjin Unloads More Cargo, Easing Supply-Chain Fears
Bloomberg: Hanjin Cargo Owners Say Bid to Unload Vessels Isn't Working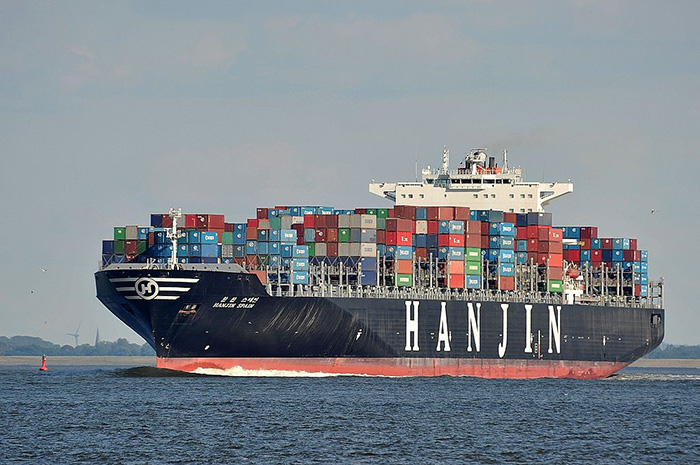 (Photo: JOC)
FIU Internship Fair &
IBHS scholarship
On September 15, WTDC Operations Intern Jose Ramirez (left) joined WTDC Sales and Marketing Manager Sean Powers (right) at the Florida International University (FIU) Internship Fair. FIU continues to be a great resource for WTDC to build its team of Interns and Employees.
On September 7th, WTDC President and CEO Ralph L. Gazitua spoke to the FIU International Business Honors Society (IBHS) on the developments in US-Cuba relations. For the second year in a row, WTDC will be offering a scholarship to a deserving member of the FIU IBHS.
For more information on Employer Resources from FIU Career Services, click here.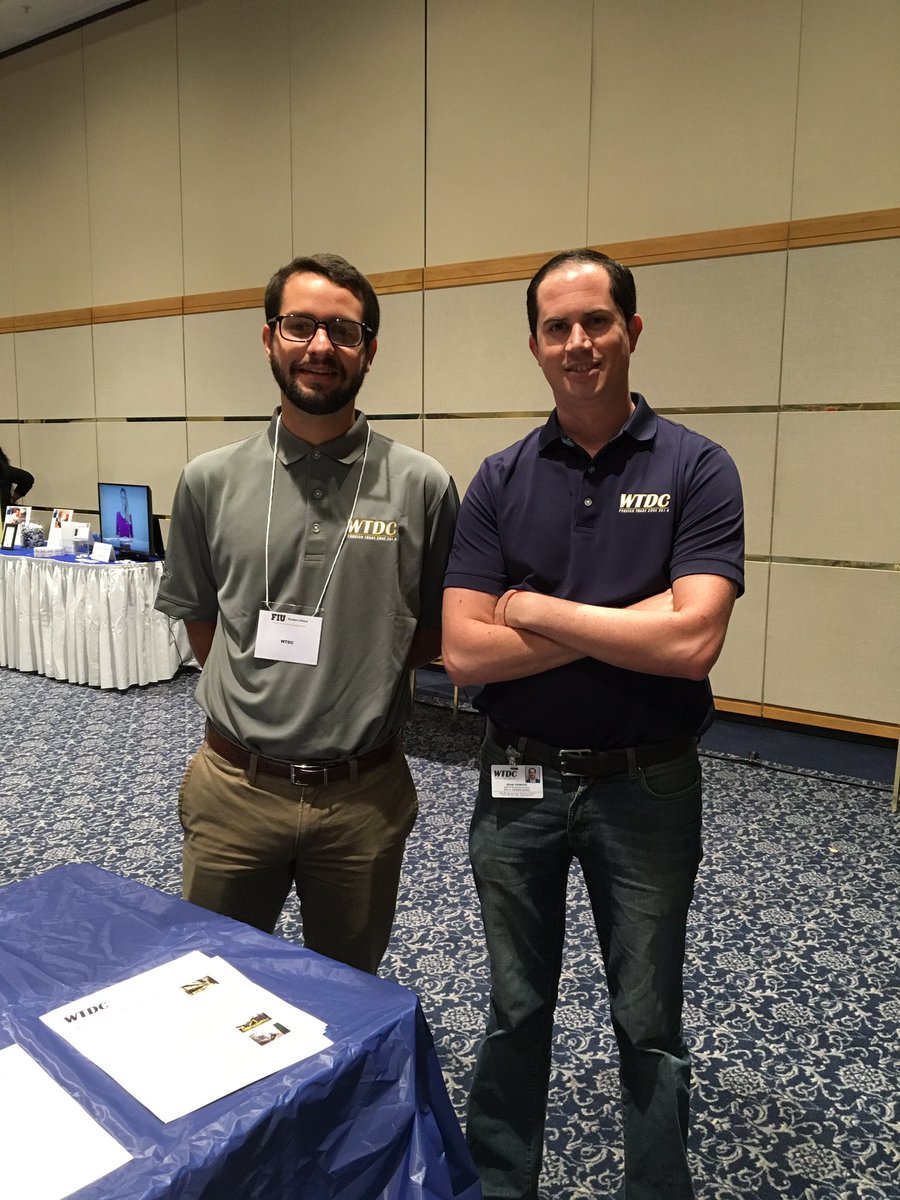 Photo: @FIUCareer
Miami conference to feature case studies from entrepreneurs and investors doing business in re-opening Cuban markets
Preparing for Trade with Cuba will bring together top experts in law, trade regulations, foreign investment, international business and logistics to discuss the best ways to leverage the new Cuba opportunities. Tourism companies, transportation providers, ports, banks, law firms – every enterprise or organization with a potential business interest in Cuba should attend this conference to stay one step ahead.
Keynote speaker: Dave Seleski, President & CEO of Stonegate Bank. Guest Speakers include: Peter Quinter, Shareholder, GrayRobinson, Miami and Ft. Lauderdale, and Ralph L. Gazitúa, President & CEO of WTDC. 12 speakers are currently slated for the October 13 event.
Click image for additional details
National Bourbon Heritage Month
Did you know that U.S. Congress passed a bill in 2007 designating September as National Bourbon Heritage Month? The observance compliments a 1964 bill declaring bourbon as the 'national spirit' of the United States and encourages responsible celebration of the corn-based spirit. On September 1, 2016, Kentucky also issued a Bourbon Heritage proclamation for its state which includes a few fun facts on the state's role in the production and promotion of bourbon:
-Bourbon is a thriving $3 billion economic engine that generates more than 15,400 jobs with an annual payroll topping $700 million and $166 million in tax revenue every year.
-Bourbon production has skyrocketed more than 315 percent in the last 16 years, with 1.8 million barrels filled in 2015, the largest production year since 1974.
-There are 6.7 million barrels of Bourbon currently aging in Kentucky warehouses, the highest inventory in 40 years with a tax-assessed value of $2.4 billion, up 135 percent in the last 10 years.
Kentucky Bourbon Trail: Gov. Bevin declares September "Bourbon Heritage Month"
Photo: Liquor.com
September 19 Newsletter: Hanjin ships begin to unload, National Bourbon Heritage Month - Read More
Posted on February 1st, 2016 at 5:04 pm
Temperature Control expansion
WTDC has commenced expansion of its FTZ Temperature Control Warehousing. We will continue to provide updates through construction and completion. As mentioned in our last newsletter, WTDC's FTZ business rose 37% in 2015 thanks in part to temperature control services for our Wine and Spirits customers from the Duty Free and Travel Retail industry.

USA & Cuba relations update:
Export Financing & Business Travel
Last week the United States laid out new policy changes in the Export Administration Regulations (EAR) and Cuban Assets and Control Regulations (CACR). Of note to the trade and transportation industries are changes regarding the way products for export to Cuba originating from the United States may be financed, with agricultural products being a noted exception.
The financing of exports precedent involved rerouting to a third country and/or cash only payment in full for most commodities, two common factors that many policy changes eliminate. Additional changes release last week include expanding definitions for business interactions with the Cuban people as well as business travel to the island.
U.S. Secretary of Commerce Penny Pritzker said, "...These regulatory changes will also facilitate exports that will help strengthen civil society in Cuba and enhance communications to, from and among the Cuban people. Looking ahead, we will continue to support greater economic independence and increased prosperity for the Cuban people, as we take another step toward building a more open and mutually beneficial relationship between our two nations." (From Commerce.Gov)
Read more from the New York Times
Read more on this update from Commerce.gov
Leap Year, Did you Know?
You likely already noticed that this February there are 29 days as we are in a leap year. You also probably know that leap year is every four years, but did you know...
Presidential elections in USA fall within leap years (More time for debates!)

We have a leap year to closer align the Gregorian calendar (365 days) with the solar year (365.242 days).

Leap year only occurs on years divisible by 4 and century years divisible by 400 (Sorry, 1900 and 2100!) to account for the 26 second difference in Gregorian and solar years.

10 dates were skipped in October 1582 to align the new Gregorian calendar with the old Julian calendar instituted in 46 B.C.
Source: CNN.com
Save the Date: Lod Mosaic at the Frost Art Museum
The Arts & Culture Committee of the Chile-US Chamber of Commerce is proud to announce its next event:
Lod Mosaic, Tour with Chile-US Chamber
Patricial and Phillip Frost Art Museum-FIU
FIU, 10975 SW 17th Street, Miami, FL 33199
Photo Credit: The Arab Daily News
Lod Mosaic Exhibition description from The Frost
If you are interested in attending please click here to RSVP
February 1 Newsletter - Read More
Posted on February 7th, 2013 at 4:36 pm
Managing Travel Retail inventory in a Foreign Trade Zone
As a Foreign Trade Zone, WTDC offers specialized logistics services that save our Spirits and Travel Retail clients time and money. Advances in technology allow us to process incoming shipments upon the arrival notice with e214s before the ship hits the pier.
Deferment of Duties
Simplified Manipulation process
Duty Drawback to a FTZ
Save time with electronic Customs Documentation
Simplified inventory management (No need to separate entries)
Weekly or monthly summary entries (MPF savings)
Quarterly HMF Reporting (Harbor Maintenance Fee)
Savings on Closeouts